History
In Saxon times the manor of Brickendon was held by the canons of Waltham Abbey. At that time and until comparatively recently the manor, centred on Brickendonbury, included parts of what is now Hertford, including Horns Mill, West Street and All Saints Church. Following the Reformation the manor passed into secular hands and has been held by a number of owners over the centuries.
The present parish of Brickendon Liberty was formed in 1929 by the amalgamation of the parishes of Brickendon Rural and St John Rural, and in 1935 parts of the parishes of Broxbourne, Hoddesdon Rural and Wormley were added. Part of the eastern boundary of the parish is formed by the former Roman highway Ermine Street which ran from London to York.
So why the 'Liberty'? In part as expiation for his involvement in the murder of Thomas Becket, Henry II created the Liberty of Brickendon between 1174 and 1184, which granted the Abbot of Waltham freedom from geld and toll (taxes) and the forfeiture of criminals. And whilst the residents of Brickendon are no longer free of taxes(!) the name provides a reminder of and a link to the parish's historic past.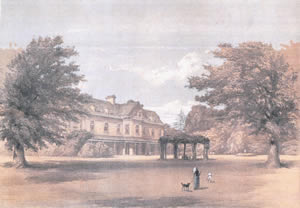 More recently, several oak trees have been planted on the village green over the past century and more to commemorate significant national events:
1887 - golden jubilee of Queen Victoria
9 August 1902 - accession of Edward VII
1911 - accession of George V
1937 - accession of George VI
June 1977 - silver jubilee of Queen Elizabeth II
June 2002 - golden jubilee of Elizabeth II
Sadly all that remains of Queen Victoria's oak is the stump, the tree having been hit by lightning in 1987, roughly a century after it had been planted.
An entertaining narrative of walking the parish boundary was published in the Hertfordshire Mercury on 5 May 1894. It gives a good description of the extent of the parish at the time. The article is reproduced here: Peramulations of Boundaries.
A detailed history of the parish, its buildings and peoples is given in a book/ebook entitled What a Liberty! by former parish council chairman Graham Irwin.