Woods and walks
Broxbourne Woods
We are so lucky to have Hertfordshire's only National Nature Reserve within our parish, where among other species, one of our rarest butterflies, the Purple Emperor has found a home. The charming ancient woodland, diverse wildlife and rich history make it a truly magnificent place to explore. The woodland has a number of walks that are clearly marked; the shorter ones with coloured bands around waymarker posts and the NNR trail with discs showing a white admiral butterfly to guide you along.
The 17.5km Broxbourne NNR Trail can either be walked as a figure of eight or you can take your time and tackle each 8km loop on its own. Most of the routes are along good woodland paths linked occasionally by pleasant field edges and meadows. In wet weather be prepared for one or two muddy patches. All streams have footbridges and where there are undulations there are boardwalks. If you enjoy peace and tranquillity and have time to stand in awe and wonder this is definitely the place for you!
For more information and a walkers guide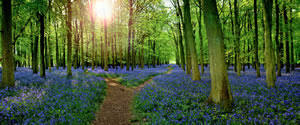 Sculpture trail
A short easy access route with an array of stunning sculptures carved out of oak, inspired by the local history and nature of the woods.
There are a number of sculptures around an easy 1km route, suitable for wheelchairs, pushchairs and has 2 east access car parks.
The sculptures that you will see include a wild boar, acorns, farmer with his cattle and a beautiful stag set in the woodland.
For more information and a map of the route
Balls Wood Nature Reserve
On the north side of the Parish is Balls Wood Nature Reserve, which is owned by the Herts and Middlesex Wildlife Trust. The trust has worked hard to replace the alien conifers that were planted by the Forestry Commission with more traditional species such as hornbeam, ash, birch and aspen. The woodland has been opened up to create wjde sunny avenues which has enabled many more species of wildlife to thrive.
The wood has two waymarked walks, the hornbeam trail and the white admiral trail, designed to guide you through the best parts of the wood.
For more information see the website for the Wildlife Trust
Brambles Wood
Remembering a tragic incident occurring during WW2.
The parish council in conjunction with Monks Green Farm and Herts County Council have created an illustrated information board which can now be found in Brambles Wood.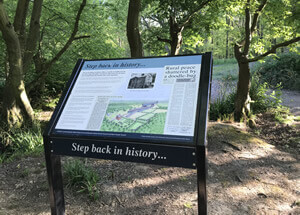 Rights of way